Gear
Pocket Preps: Tourniquet Buyer's Guide
On more than one occasion, I heard the story about a guy who was using a chainsaw in his backyard to clean up some storm debris. As he was cutting a few of the fallen branches, he lost his footing and the running chainsaw came down on his leg, causing a tremendous wound. While his wife quickly called 9-1-1 and helped apply direct pressure, the femoral artery was cut and he died before the ambulance arrived. A tourniquet would've likely saved his life.
Tourniquet use goes back to at least the 4th century BC, when Alexander the Great had troops using tourniquets of leather and bronze. There are other documented uses during the Middle Ages with battlefield tourniquets, which were simple garrotes. In 1785, Sir Gilbert Blane advocated that, in battle, each Royal Navy sailor should carry a tourniquet: "It frequently happens that men bleed to death before assistance can be procured, or lose so much blood as not to be able to go through an operation. In order to prevent this, it has been proposed, and on some occasions practiced, to make each man carry about him a garter, or piece of rope yarn, in order to bind up a limb in case of profuse bleeding."
The use of tourniquets waned after World War II, with much documented misapplication, plus lag time between application and subsequent receiving of proper medical attention, causing them to fall out of favor. But their military use continued to rise through the Korean War, Vietnam, Iraq, and Afghanistan.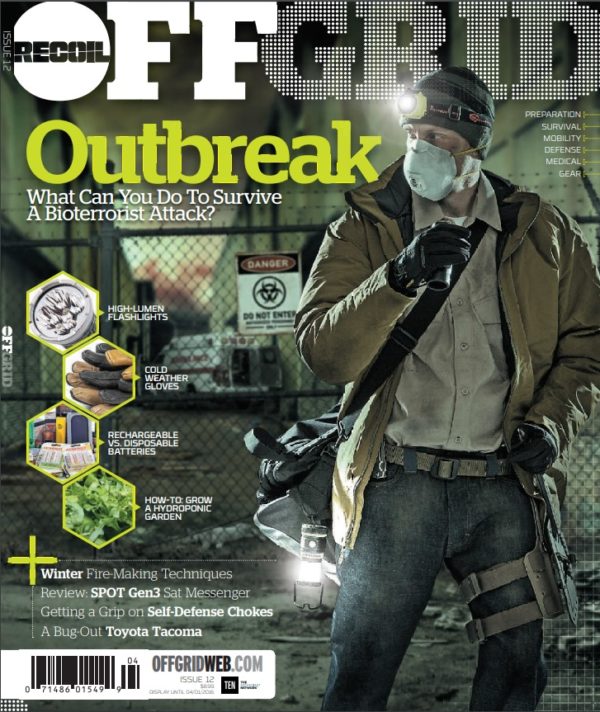 Subscribe Today and Save!
Today, after much scientific study, their use has become mainstream. A set of established clinical practice guidelines direct the appropriate use of tourniquets. The present doctrine used by the U.S. Military is that every soldier in the field has a tourniquet and knows how to use it. This has carried over to the civilian sector, where police officers, firefighters, and EMTs routinely carry them. There are also an untold number of schools and businesses across the country that have trauma kits stockpiled with numerous tourniquets in case of a dire emergency.
Understand this: Tourniquets are not just for soldiers and gunshot wounds. Automobile accidents, athletic events, and home improvement projects can all lead to unforeseen trauma where a tourniquet can mean the difference between life and death. Whether you're a soldier on the front lines or a well-prepared mom shuttling kids between activities, emergencies happen, and there's something you can do about it. Be prepared and enroll in a Stop the Bleed or Tactical Emergency Casualty Care (TECC) course to learn the proper way to control bleeding in a severely injured person.
Special thanks to Guardian Revival and Medicine in Bad Places for their technical assistance with this article.
North American Rescue Combat Application Tourniquet (C-A-T)
Colors:
Black, Blue, Orange
Size:
Packaged L 6 by W 2.4 by D 1.5 inches; open length 37.5 inches
Weight:
2.7 ounces
Price:
$30
URL:
narescue.com
Notes
As one of the first modern tourniquets on the market, this is the style the vast majority of people are familiar with. Noted as the best pre-hospital tourniquet in the February 2008 supplement of The Journal of Trauma, the patented C-A-T is a true one-handed tourniquet proven to be fully effective by the U.S. Army's Institute of Surgical Research. Currently in Gen 7, this is a windlass system where you use the stick to wind up or tighten the tourniquet. The rotation tightening of the windlass gives you a mechanical advantage to apply more pressure. Once the blood flow is occluded, the windlass is pressed into a retaining clip to maintain pressure. Be sure to buy the genuine C-A-T product from a trusted retailer (not a third-party Amazon reseller). There are a lot of dangerous counterfeits on the market. The C-A-T is approved by the Committee on Tactical Combat Casualty Care (CoTCCC) and carries NSN 6515-01-521-7976.
Pros:
The de-facto standard in tourniquets
Virtually all tourniquet users are trained on this model
Cons:
Hook-and-loop attracts lint and can snag on other gear if left exposed
TacMed Solutions SOF Tourniquet
Colors:
Black, Blue, Orange, Red, Tan
Size:
Packaged L 5.5 by W 2 by D 1.75 inches; open length 44 inches
Weight:
3.7 ounces
Price:
$31
URL:
tacmedsolutions.com
Notes
Designed by a Special Forces medic while on deployment to Afghanistan in 2003, the SOF-T is a well-refined tourniquet. This is a tried-and-true windlass design with several improved features. The first is that the windlass is made from aluminum, rather than polymer. It also has a buckle for fast application around a limb, using only gross motor functions, versus rethreading a strap through a buckle. I find it to be a little more supple than most of the other tourniquets, which gives it a nice feel and is quieter than the hook-and-loop types when carried. It has seen adoption by many large organizations including NYPD, LAPD, and the American Red Cross. I keep this tourniquet as part of my EDC. It's CoTCCC approved and is available for purchase by the Department of Defense under NSN 6515-01-696-4522.
Pros:
Aluminum windlass
Packs flat and lacks hook-and-loop, making it convenient for on-body carry
Cons:
SAM Medical SAM XT Tourniquet
Colors:
Black, Blue, Orange
Size:
Packaged L 7.25 by W 2.5 by D 1.5 inches; open length 36 inches
Weight:
3.8 ounces
Price:
$38
URL:
sammedical.com
Notes
The SAM XT is a windlass design tourniquet with an obvious physical difference, as the hook-and-loop strap has two rows of holes in it. These holes work in conjunction with the unique TRUFORCE buckle that'll help lock the strap in place when a predetermined amount of force is applied. When you pull the strap hard enough, the buckle will lock into the holes. The tourniquet has a good feel to it, not too stiff and not too soft, I had no problem securing it one-handed. Anybody who has ever used the C-A-T or SOF-T will intuitively understand how to use this tourniquet. It's approved by the CoTCCC and carries NSN 6515-01-670-2240.
Pros:
Aluminum windlass
TRUFORCE buckle helps you know when the strap is tight enough
Cons:
The buckle makes it bulkier than most.
Combat Medical TMT
Colors:
Black
Size:
Packaged L 4.5 by W 2.5 by D 1.85 inches; open length 38 inches
Weight:
2.9 ounces
Price:
$30
URL:
combatmedical.com
Notes
I found the TMT to be especially challenging to apply one-handed. On top of that, I found that if you twist the windlass counterclockwise, it's counter-intuitive to get it into the retaining clip. Instead of letting the windlass settle back into the clip, like on all the other windlass tourniquets, you actually have to push it forward. This counter-intuitiveness can cost you a lot of blood under pressure. Additionally, when tightening the windlass in a clockwise direction, you lose a little tightness. The Naval Medical Research Unit came to the same conclusion in 2015 on the clockwise tightening. The buckle is nice, though. I expected to have to thread the strap through it but found that's not possible. Instead, you simply unhook the buckle. These issues are easily remedied through proper training. It's approved by the CoTCCC and carries NSN 6515-01-656-6191.
Pros:
Smooth windlass action
Fast to apply once trained
Wide 2-inch band
Cons:
I found it to be slow and difficult to secure one-handed.
Not intuitive to use
RevMedx TX2 Tourniquet
Colors:
Tan
Size:
Packaged L 8.5 by W 2 by D 1.5 inches; open length 39 inches
Weight:
3.1 ounces
Price:
$39
URL:
revmedx.com
A departure from the traditional windlass design, the RevMedx TX2, and its big brother the TX3, utilize a ratcheting mechanism to achieve the final tightening on the tourniquet. It's a lot like using a ratchet strap — simply wrap it around the limb, pull tight, and start ratcheting. Knowing how superbly tight a ratchet strap can get, I had high hopes, and this tourniquet didn't disappoint. The 1-inch-wide ratchet design works smoothly and the tourniquet can be left in service after using it for training. In fact, it's encouraged in the product literature. The 2-inch-wide strap allows for better bleeding control. The TX3 is another inch wider and 21 inches longer, fitting even the burliest of people. A Naval Medical Research Unit study found that the TX tourniquets outperformed the windlass-style tourniquets in multiple categories. Both are approved by the CoTCCC and carry NSN 6515-01-667-6027 and 6208.
Pros:
Wide 2-inch strap allows for better bleeding control
Convenient ratcheting mechanism
Cons:
No time tag on top of mechanism
m2 inc. Ratcheting Medical Tourniquet (RMT) Tactical
Colors:
Black, Tan
Size:
Packaged L 8.5 by W 1.5 by D 1.25 inches; open length 37.5 inches
Weight:
3.6 ounces
Price:
$36
URL:
chinookmed.com
Notes
The Ratcheting Medical Tourniquet is made by m2 inc., a leading manufacturer of industrial-strength mechanical closure technologies. Besides this Thermo Plastic Ratcheting Buckle, they also make surgical, industrial, marine, and military items. The RMT is the cousin to the REV MED TX2 and TX3, but somewhat smaller. The buckle comes in at ¾ inch, allowing it to be readily used on narrow tourniquets. It also features a tactical loop that doubles as a bite loop for easier application with one hand or gloves. While this is the military tactical tan version, it also comes in three civilian versions of XL, greater than 120 pounds, and less than 120 pounds (pediatric), as well as three military versions of tactical, paramedic, and 2-inch, with various colors. It's approved by the CoTCCC and carries NSN 6515-01-527-3841.
Pros:
Versatile with numerous application-specific variants
Many color and size choices
Cons:
No time tag on top of mechanism
H&H Med Corp. SWAT-T
Colors:
Black, Blue, Orange
Size:
Packaged L 4.5 by W 3 by D 0.75 inches; open length 37.5 inches
Weight:
3.6 ounces
Price:
$19
URL:
store.doomandbloom.net
Notes
The Stretch Wrap and Tuck Tourniquet is often disregarded because it has never gotten CoTCCC approval. That said, it does its job when properly applied. It's a rubber strap with instructions printed on one side. To apply it, stretch the band firmly until the printed oval and diamond shapes stretch into circles and squares. This is how you know you're applying it with enough force to occlude blood flow. Wrap as many times as you can and tuck the end in. For some, tucking the end in can be difficult. A big upside is it'll work just as well on children as adults. The SWAT-T can also be used to apply pressure to a packed wound, and can be used as a K9 tourniquet or sling. It truly is the multi-tool of the tourniquet world. The SWAT-T comes packaged in a plastic pouch, with pre-cut tear notches every 2 inches on each side. Even wet, it tears open readily with a two-handed grip or your teeth.
Pros:
Very affordable
Doubles as a pressure dressing or even a canine TQ
Cons:
Not as easy to apply one-handed
Not CoTCCC approved, making it more of an "honorable mention" than a top-tier contender
About the Author
Joey Nickischer is a retired detective with the New York City Police Department. He currently works as a lead technical rescue instructor with several different companies covering topics from wilderness search, high angle rope, mine rescue, and off-road operations. He serves as a team leader with the Westchester County Technical Rescue Team and is the commander of the Putnam County Technical Rescue Team, as well as serving as chief of department with the Patterson Fire Department.
---
Prepare Now:
Disclosure: These links are affiliate links. Caribou Media Group earns a commission from qualifying purchases. Thank you!
---
STAY SAFE: Download a Free copy of the OFFGRID Outbreak Issue
In issue 12, Offgrid Magazine took a hard look at what you should be aware of in the event of a viral outbreak. We're now offering a free digital copy of the OffGrid Outbreak issue when you subscribe to the OffGrid email newsletter. Sign up and get your free digital copy