This post may contain affiliate links.* As an Amazon Associate I earn from qualifying purchases. Click here to read our affiliate policy.
Estimated reading time: 15 minutes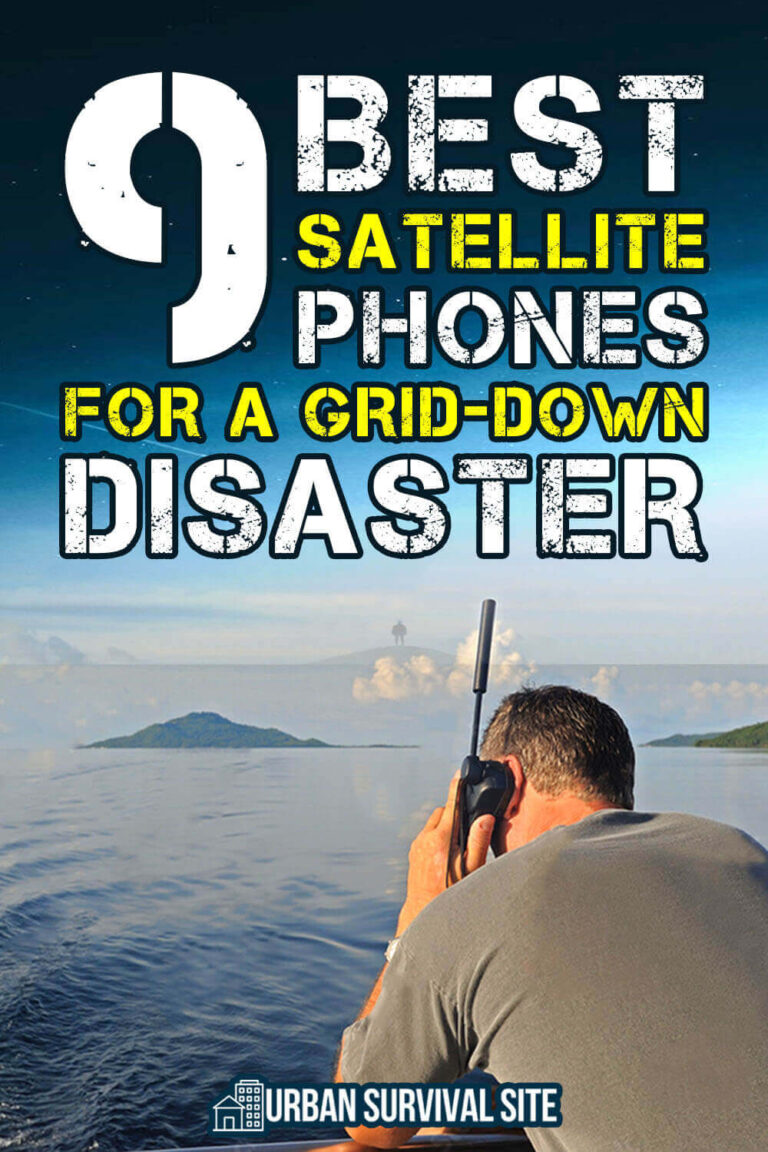 Being able to talk to the outside world can mean the difference between life and death for someone in a survival situation. Satellite phones are vital because they can provide you coverage in remote areas. If you're going to spend weeks in the wilderness, or if you're just concerned about a grid-down scenario, then a satellite phone is a necessity for your pack. 
Looking for a new satellite phone? Technology is always changing, and this article will shed some light on what to look for when buying a satellite phone. We'll also include some examples of reliable models on the market today that will get the job done.   
How Does A Satellite Phone Work? 
Much like cell phones, satellite phones work by sending a signal from device to device. Instead of utilizing towers, however, these phones bounce their signals off of satellites. As long as you have a clear view of the sky, you should be able to access a satellite for service. 
Trying to use one inside a building can be difficult unless you have an external antenna attached to it. This boosts the signal enough to search out a satellite. It may not be perfect, depending on the materials in the building, but you'll be able to make a call.  
Don't confuse these with regular smartphones as the coverage capabilities are completely different. The designs can be quite different since the two types of devices are used in very different environments.     
The Difference Between a Cell Phone and a Satellite Phone 
If the world's cell phone infrastructure were to collapse from a disaster, then communication would have to rely on satellites. Additionally, even if the network is active, it can be overloaded by traffic that causes slowdowns or disruptions. If you find yourself in an area without coverage, then your cell phone becomes useless. 
A satellite phone addresses all of that by working independently of a congested network. Each signal is dedicated and, as long as the satellite is within view, works even if your cell phone doesn't. 
Satellite phones can make phone calls and text to a cell phone, and vice versa. This is achieved using special codes, and the calling rate is expensive—up to $13 a minute. 
Do They Have Text and Internet Capabilities? 
Pretty much everything you can do on a cell phone can be done on a satellite phone. This includes sending text messages and accessing the internet for browsing, social media, and app usage. 
If you're looking for trail tracking, GPS is equipped and fully functional on most modern day satellite phones. Since much of the world (over 70%) doesn't have cell phone coverage, a satellite phone is imperative for communication. 
Why Would You Use One in an Emergency? 
There are many instances where a satellite phone would come in handy, some closer to home than you might think. Here are some of the advantages of using a satellite phone instead of a conventional cell phone. 
Provides coverage in normally weak areas for cell phones.
Works during a power outage .
Works great as emergency devices for breakdowns.
Can't be hacked unless the satellite is hacked.
You can still have your signal triangulated so they aren't completely off the grid in the sense that they cannot be found. You can purchase signal scramblers, but with enough determination, someone could still track you.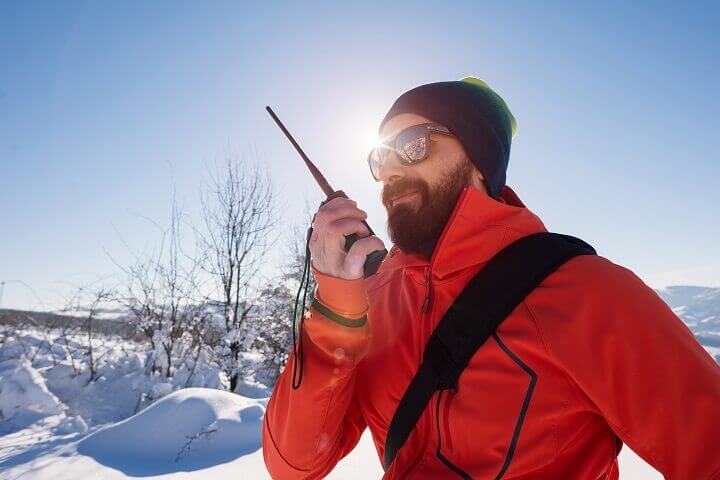 What Are LEO and GEO Satellite Phones?
There are two main types of satellite phones, and they connect to different satellites. The difference can be found in the amount of satellites and the data speed for transferring information. Both networks have their benefits, and what you choose depends on where you're going to be.  
Let's Talk About LEO Phones
LEO stands for Low-Earth Orbit and consists of a large number of satellites that are scattered across the world. These satellites follow a pattern around the planet—think of it like routes that a commercial airline would use. 
This means that the entire globe is covered and will still retain network integrity if a satellite stops working. Numerous satellites flying overhead gives you a better chance of a signal than just a few. 
Generally, you have to point in the direction of the satellite in order to make the connection. The benefit to this system is that since they are always moving, a satellite can still connect again in the future once the obstruction is out of the way. This is a common problem among mountaineers if their satellite suddenly becomes out of range, and these phones essentially fix it. 
The Evolving GEO Phone
GEO stands for Geosynchronous Satellite Orbit which is a fancy name for high earth orbit satellites. These types of satellites are massive data centers that can handle high impact activities such as streaming or other online services, which need beefy bandwidth. 
If you have a base camp somewhere remote where cell service is impossible to get, then these kinds of phones are perfect since they can help provide internet for work and entertainment. 
The reason for this is because you generally have to point the phone at a satellite, which can be kind of tricky if you're moving and are unsure of the direction to point. 
The Disadvantages of Satellite Phones
As cell phones have issues with coverage and functionality, satellite phones have their own issues to deal with. Luckily, the good outweighs the bad, and technology will continue to evolve and address these problems.  
Disadvantages of LEO Phones
The main downside with these devices is that they have incredibly slow data transmission capabilities. This is simply because the satellites do not have the capacity to handle things like streaming. They still work well for sending text messages and calls, but that's about it.   
Disadvantages of GEO Phones
GEO satellite phones are incredibly fast for the internet, but there aren't as many satellites as you might think. Unlike the LEO system, GEO phones have access to substantially fewer satellites. This means that if one of the satellites were to go down, there is a chance that you might lose coverage in your location. 
Satellite Phone Buyers Guide
Buying your first satellite phone can be a simple task. There are several factors to keep in mind when considering which one to get above price and build quality. Here is a list of what to look for when you go to buy your next satellite phone.   
Coverage
Will you be moving around a lot, or do you need something for your remote wilderness property? It should be the first question you're asking when looking at models. 
LEO phones will have excellent coverage, but they'll only be able to complete simple tasks. The satellites are always moving, which makes them great for directional changes if there's a mountain or forests in the way.  
GEO phones have access to fewer satellites, but they can do more than LEO devices. If you have a hunt camp or off-grid setup in the wild, then these are great devices to have for coverage
Internet Speeds
You'll be hard pressed to surpass a GEO phone when it comes to internet capabilities. Consumer satellite internet services typically run off stational GEO satellites to provide high speed connectivity. Newer satellites are able to achieve more than 500Mbit/s download speeds. 
LEO systems are advancing and can achieve speeds over 300Mbps, as proven by Elon Musk's Starlink system. However, it is very much in its infancy and should not be relied upon for fast speeds currently. The latency with LEO satellites is quite low since they are closer to us and our devices. This plays an important role in why Starlink has been so successful thus far.    
Battery Life
As with most mobile devices, it is important to ensure that the battery can power your device for long periods of time, whether active or in standby. You'll more than likely find a lithium ion battery inside, and you'll want to pay attention to the milliamp hours for it. The higher the number, the bigger the battery life, the longer it'll last. 
If you can find a removable battery, then even better because you won't have to send the device in to have it replaced—you can just purchase one and install it yourself. Most newer devices will use USB-C or Micro USB chargers for convenience, although some models come with a proprietary charging cable system.   
Construction
Modern smartphones wouldn't make it out in the remote areas where satellite phones will be used. Satellite phones generally are rugged with multiple types of protection built in. Additionally, you can purchase accessories that further enhance these protective qualities.  
Price
Of course, price matters since these devices can get quite expensive. The most expensive model is not always the best one to go with, so be sure to research all of their features before pulling the trigger at the checkout page. 
Consumer base models will run you from $400 to $900 which will give you connectivity, calling, texting, and maybe GPS functionality. Going with notable brands such as Garmin or Iridium will ensure that the price tag will be higher than average. 
Feature rich models will cost upwards of $2,000, and they generally have all the bells and whistles you can find in a smartphones. The price will vary based on optional features such as bluetooth, wifi capabilities, and external storage. 
Countries Where The Use of Satellite Phones is Banned
Satellite phones are not welcome in every country on the planet. In fact, there are several countries that have severe restrictions or even outright bans. Restrictions usually require that you register the device beforehand and have an account active for at least 6 months. Others need a special permit to clear their devices ahead of time. This is particularly true for journalists.  
These countries have restricted satellite phone use or have outright banned it:  
China
Bangladesh
Cuba
India
Libya
Nigeria
North Korea
Russia
Sri Lanka
Sudan
Ensure that you check with the local authorities to ensure you're permitted to use your satellite phone. Punishment can include jail time or heavy fines if caught using one in an unpermitted zone.   
The 9 Best Satellite Phones for When SHTF
There are lots of satellite phones on the market, and they aren't all built the same. This list comprises the best satellite phones for survival situations. They are a mix of value, features, and versatility.
Iridium 9575 Extreme
The Iridium 9575 Extreme is an advanced satellite phone that can handle voice, data, and text services. Iridium devices are connected to about 66 LEO satellites that will give you global coverage. It even has GPS tracking and an emergency SoS button with notification features. 
The Iridium Extreme has MIL-STD 810F and an IP65 rating to ensure water, dust, and dirt don't get into the device. The device will only work down to 14 degrees Celsius.
Key Features
• Global coverage
• 30 hours standby time
• Emergency notification services
Pros/Cons
+ Fully capable in a variety of environments
+ Great battery life
– Limited internet options
Iridium 9555
Consider this the little sibling to the Iridium Extreme handset. It loses a lot of the bulk that the other model has but still retains a lot of durability. Beginners would be wise to choose this model since it has an intuitive UI.
This phone connects with the Iridium LEO satellite system which will give you global coverage. For internet capabilities you are limited to enhanced SMS and email capability. The latest version of this phone comes with a stowable antenna and a built in data port. 
Key Features
• Weather resistant keypad
• Pre-programmed international access code
• Industrial grade design
Pros/Cons
+ Portable
+ Great battery
– Very basic 
Iridium GO! 9560
While this isn't considered a phone, it allows your phones to work as if they were connected to the cellular data network. There is an accompanying app with the device that lets you connect up to 5 mobile devices within a 100-foot radius. Think of it like a cellular mobile hotspot but with global capabilities and able to work in the middle of nowhere. 
You can make voice calls, send text messages, browse the web, and check your email. Great for looking at the weather forecasts while you're on a trip. 
Key Features
• WIFI hotspot for up to 5 devices
• IP65 protection rating
• Use your own device with the Iridium GO! App
Pros/Cons
+ Can support multiple devices
+ App provides a lot of functionality
– Needs a smartphone to work 
Garmin inReach SE+
One of the most common satellite devices you'll see amongst outdoor enthusiasts, the Garmin inReach SE+ provides all of the tools you need to send out a signal for help. When you buy a subscription, you are able to send two-way sext messages and receive 24/7 monitoring from a rescue center. As with most Garmin units, you can send your location to others while you're gone. 
It also pairs with your smartphone for additional functionality, including maps, weather, and texting services. 
Key Features
• Global coverage using the Iridium network
• Interactive SOS with rescue monitoring center
• The ability to use topo maps
Pros/Cons
+ Portable unit with great battery life
+ Location tracking
– Subscription required
Garmin inReach Mini 2
A much smaller version of the inReach SE, the mini provides a lot of functionality in a small package. With a subscription, you gain access to the global Iridium network which lets you send two-way text messages, trigger an SOS, and navigate using your smartphone. 
This model doesn't have voice call capabilities, so it would mainly be for someone who is using it to check in with family or friends. 
Key Features
• Small form factor
• IPX7 waterproof
• Up to 10 day battery life
Pros/Cons
+ Great to have in hiking packs
+ Can withstand adverse conditions
– Limited functionality
Globalstar GSP-1700
One of the smallest models you can find with voice capabilities, the GSP-1700 is designed to keep you in contact when regular cell phones won't cut it. It prioritizes its small form factor so that it stows away easily if you need to travel. 
It has a standby battery life of 36 hours which is reduced to 4 hours of talk time. The GSP-1700 can be used in 120 countries, supports voice calls, sends messages, and connects to a web browser with the optional data kit you can buy. 
Key Features
• Full voice call capabilities
• Optional data kit
• International dialing capabilities
Pros/Cons
+ Globalstar has fast data service
+ Lightweight model
– No GPS tracking capability
Globalstar GSP-1600
A reliable but basic handset that will work in extreme environments. This phone will make calls, send messages, and last up to 19 hours on standby. Globalstars services work best in North America, South America, Western Europe, and Australia. 
Key Features
• Make and receive calls
• Retrieve GPS location
• Surf the internet and check emails
Pros/Cons
+ Large coverage map
+ Great battery life
– Minimal handset features
BlueCosmo Inmarsat IsatPhone 2
This phone uses GEO technology, primarily three equatorial-orbit geostationary satellites. Because they're so high up in orbit, they are unaffected by obstacles that lie on the horizon. The downside is that they don't work at 82 degrees latitude and higher. 
If you're prone to dropping your device or submerging it in water, then the IP65 water and dust resistance will go a long way. It has one preferred contact setting that you can tie to the emergency button.
Key Features
• Uses GEO stationary satellites
• Handles temperatures from -4 to 131 degrees F
• Programmable emergency button
Pros/Cons:
+ Built in Bluetooth for handsfree calling
+ Lightweight at 11 ounces
– Won't work at 82 degrees latitude and higher
Thuraya X5-Touch Satellite Smartphone
For a smartphone experience, this satellite device is the first ever to feature the Android operating system. The interesting thing about this phone is that it can be used on GSM networks whenever you're in cell service. Unfortunately, the satellite functions aren't available in the United States but cell service will work just fine. 
It has all the bells and whistles that a smartphone would have, including a web browser, GPS, bluetooth, WIFI connectivity, and an IP67 dust, impact and water resistance rating. If you're worried about the touchscreen breaking, the Gorilla Glass works like tempered glass and will prevent most drops from damaging it.  
Key Features
• Dual SIM capabilities
• Satellite Android operating system
• Rugged design
Pros/Cons
+ Full smartphone experience
+ Omnidirectional antenna
– Older version of android
Frequently Asked Questions 
You may still have some questions about satellite phones, and that's okay. Here are some of the most commonly asked questions from people looking to purchase one. 
What are the best conditions to use a satellite phone?
Generally, you don't want any obstructions that can block the clear line of sight needed to use a satellite phone. Clear skies always work best and you'll need to be facing the right direction to pick up the signal from the satellite. 
How much do satellite phones cost to use?
There are two kinds of plans you can subscribe to: monthly or annually. These usually include bundles with calls and text. Calls can range anywhere from $1.25 to $13 a minute per phone call, depending on the provider. 
Do satellite phones go down often?
Satellite phones are quite reliable as long as you are not inside a building or surrounded by mountains. Additionally, the more satellites in the sky the better chance of no interruptions if one were to go down. LEO phones have a lot more satellites available than a GEO phone, for example.  
Final Thoughts
Satellite phones are still evolving, but the technology is much better than it was 10 years ago. Internet capabilities are improving, which will bring more people to the platform. Free from the constraints of a bogged down cellular network, you can enjoy reliable service with near global coverage.
If the SHTF and the cell networks go down, a satellite phone will be one of the few viable options for us to use in a survival situation.