Gear
Bag Drop: 5.11 Tactical Responder ALS Medical Bag
As a medical provider, I feel the need to carry the tools of my trade. From a first aid kit to my trauma kit to my truck bag, I think I have the right tools for the mission. Sometimes I'm called upon to place a bandage on an abrasion at the peewee baseball game; other times, I need to have my trauma kit ready at the range (especially when the guy next to me has his favorite new pistol blow up in his hands). Although it's impossible to have every tool for every incident, I can always improvise with the tools I have in this bag. This article will cover my 5.11 Tactical Responder ALS medical/truck bag that travels with me everywhere my vehicle goes. The exact bag I have is no longer available through 5.11 Tactical, although the company now offers a somewhat smaller 50-liter ALS/BLS Duffel Bag.
The 5.11 Tactical Responder ALS Bag
Photos by Stacie Kwacala
I bought my 5.11 Tactical Responder ALS 2900 bag seven years ago. It's a 72-liter bag with a shoulder strap and two straps to wear as a backpack. There's a main compartment that zips down on three sides. Inside the flap are a zippered compartment and three pouches. The main compartment has dividers and two removable compartments that close with Velcro. At the back of the bag, there's another zippered compartment on the outside, which contains three subdivided spaces. On the outside of the bag to the left is another zippered compartment with two subdividers. There's PALS webbing on the outside of this compartment. The reflective tape also appears on the outside of the main compartment flap.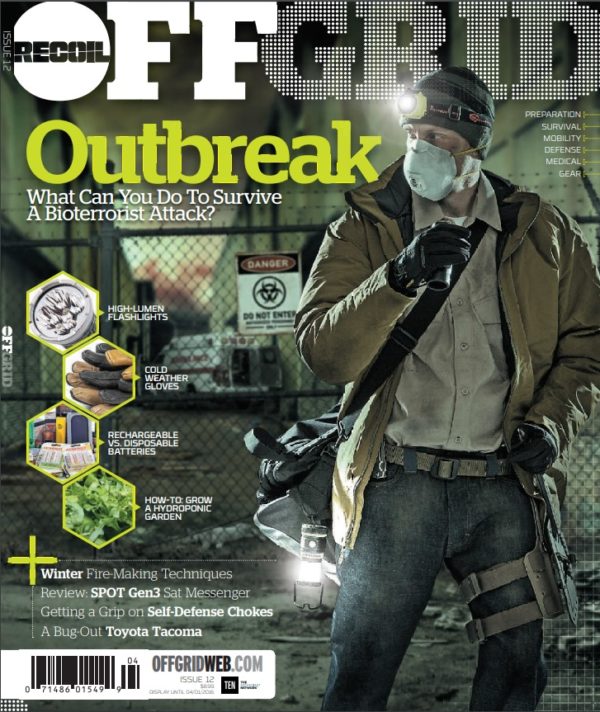 Subscribe Today and Save!
Make & Model
5.11 Tactical Responder ALS 2900 72L
MSRP
Discontinued; Replaced by ALS/BLS Duffel 50L ($235)
URL
www.511tactical.com
The Contents
Inside the main flap compartments, I have my sphygmomanometer, otoscope, ophthalmoscope, stethoscope, glucometer, pulse ox, and dental instruments. I removed the dividers and the removable compartments within the central part of the bag. I wanted to make this area easier to organize, so I replaced it with six modular vinyl bags (Shiffler MobileAid Clear-View quick access utility pouches).
Pouch 1, labeled GSW, is my trauma kit that contains a CoTCCC-recommended TQ, HyFin Vent Chest Seal, Israeli dressing, decompression needle, nasopharyngeal airway, and Celox Z-Fold Gauze.
Pouch 2, labeled Dressings, includes ACE wrap, Coban, rolled gauze, and 4×4 gauze.
Pouch 3, labeled Lacerations, contains 4-0 Ethilon and 6-0 Prolene sutures, needle drivers, rat-toothed forceps, scalpels, skin stapler, Dermabond, lidocaine (1%), Steri-Strips, and 3ml syringes with 18- and 22-gauge needles.
Pouch 4, labeled First Aid, contains Band-Aids, triple antibiotic ointment, burn gel, cotton balls, baby aspirin, ibuprofen, loperamide, ondansetron, acetaminophen, lip balm, and a tick twister.
Pouch 5, labeled Meds, contains Proventil inhaler, glucose tablets, glucagon pen, EpiPen, lidocaine 1%, and Narcan.
Pouch 6, labeled Splints, contains SAM Splints, tape, Kerlix gauze, and handkerchiefs.
The back zippered pouch contains Wagan Tech FRED lights, Mylar emergency blankets, cleansing wipes, and nitrile gloves. The side pouch contains an air horn, ethyl chloride, and a flashlight.
Final Thoughts
Since I purchased my Responder ALS bag, 5.11 has gone through two different iterations. They've also moved to a more modular setup within the bag. I like my bag better than the current model — it's larger in capacity but can still be worn as a backpack. The pouches from Shiffler have made my bag much more manageable.
---
Prepare Now:
Disclosure: These links are affiliate links. Caribou Media Group earns a commission from qualifying purchases. Thank you!
---
STAY SAFE: Download a Free copy of the OFFGRID Outbreak Issue
In issue 12, Offgrid Magazine took a hard look at what you should be aware of in the event of a viral outbreak. We're now offering a free digital copy of the OffGrid Outbreak issue when you subscribe to the OffGrid email newsletter. Sign up and get your free digital copy Click to Download!
---