Gear
Gear Up: New Survival Gear for May 2022
Tasmanian Tiger USA TT Passport Safe RFID
NOTES
Since August 2007, all U.S. passports have come embedded with an RFID chip. This chip contains the same information as the passport, including your photograph. Unfortunately, this also means that someone walking past you with an RFID scanner could capture your data and use your personal information for many different kinds of identity crimes. Fortunately, Tasmanian Tiger has come up with a solution. The TT Passport Safe RFID is large enough to contain a passport, multiple credit cards, and then some. Its fabric has been integrated with CRYPTALLOY foil, one of the best RFID shielding materials on the market, which will block most scanning efforts, and help keep your personal information secure while traveling.
Color
Black, Olive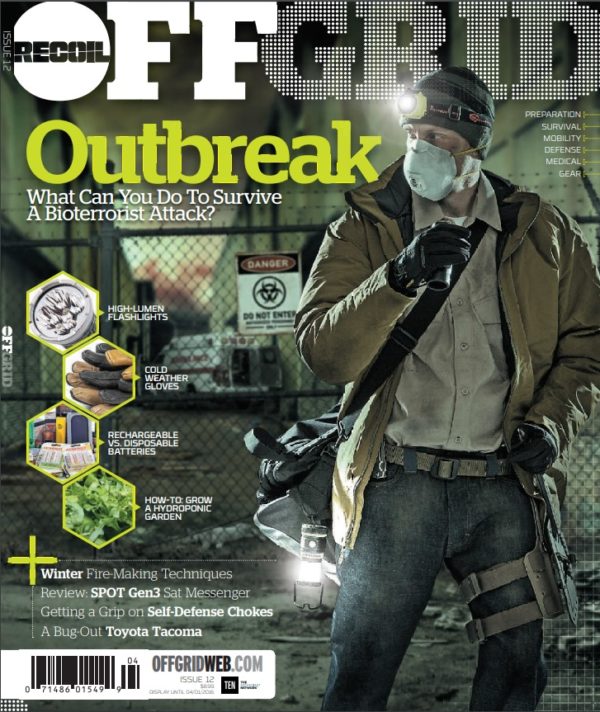 Subscribe Today and Save!
MSRP
$24
Strike Industries Strike Mag Lighter Cover for BIC Mini
Weight
0.8 ounce
MSRP
$9
NOTES
Be prepared for a surprised reaction the next time someone asks you for a light. This lighter cover for a BIC Mini is a fun novelty item. Lighters are often an essential part of many EDC kits due to their water-resistant dependability over matches. Use one to light a camp stove, start an emergency fire, or seal loose ends of paracord, but make sure you do it in style. Modeled after the unique Strike Industries pistol magazine design, the lighter cover manually extends and retracts with a slide mechanism. A pocket clip on the base plate offers a convenient way to store a lighter in your pocket without adding to unnecessary clutter.
RTS Triggershield
H/T PIN SIZES
Standard (0.154), Large (0.17)
MSRP
$70
NOTES
RTS's slogan, "Shoot On Purpose," says everything these trigger shields are intended to do. Accidental discharges are a possibility if a foreign object enters a weapon's trigger guard, and these handy devices were made as an extra measure to reduce that risk. Requiring no special tools, the shields are easily assembled in as little as three minutes. Two variations are available and can accommodate both standard and large H/T pin sizes. The shield is made out of a Mil-spec polymer designed to withstand punishing conditions. A downward spring-assisted hinge keeps the shield from flapping during movement. Each side of the shield is contoured specifically for the trigger finger to access quickly and comfortably.
Prometheus Design Werx CWO Full Zip Sweater
Colors
Heather Alpine Gray, Heather Black
MSRP
$249
NOTES
Inspired by classic British outdoor and military clothing, the CWO (Cold Weather Operations) Full Zip Sweater can keep you nice and warm. Prometheus has partnered with a generations-old Italian knitting mill located at the base of the Dolomite Alps to weave premium merino yarns into an impressive 2×2 rib. It's ideal for comfort and breathability while engaging in strenuous outdoor activities, or for anyone looking to add some classic style to their outdoor attire. This versatile sweater boasts a two-way, reverse coil YKK front zipper which zips up to turtleneck height, two zippered hand pockets, four-way stretch nylon fabric reinforcements on the shoulders and elbows, and turnback cuffs with thumbholes.
Varusteleka Carbon Steel Terävä Jääkäripuukko 110 w/Boltaron Sheath
OAL
9.4 inches
MSRP
$84
NOTES
This blade uses a traditional and proven functional Finnish puukko profile with a drop point. The thickness of 4.2 mm/0.17 inch makes this a bit more robust than most old-timey traditional Finnish puukkos. The profile is a Scandi grind with a tiny secondary bevel, and you can use the durable Jääkäri for batoning wood without a problem. Made from 80CrV2 tool steel, the heat treatment leaves the surface of the steel softer (~52 HRC), which creates a tough exterior to protect the blade. As the blade is ground, the harder (~59 HRC) inside is revealed and improves edge retention. The spine has ground bevels for striking Ferro rods. The Boltaron Sheath is a bit like Kydex but offers better performance in extreme temperatures (like cold Finnish winters). This sheath allows carrying the knife on your belt, vest, pack, or anything with PALS webbing.
Streamlight TLR-10 Light/Laser
Lumens
1,000
MSRP
$385
NOTES
Why be forced to choose either a tactical light or a laser on the rail of your handgun when you could have one system that does both? Streamlight has introduced the TLR-10, a tactical light capable of producing 1,000-lumen output and reaching out to 200 meters, as well as an integrated 640-660nm red laser. Designed for full-framed handguns, the TLR-10 includes customized ambidextrous switches with either a low or high position to match your shooting style. Both the light and the laser can operate stand-alone or simultaneously, and the light has a user-enabled strobe function. Water-resistant, anodized machined aluminum construction ensures its durability, and a weight of only 4.62 ounces ensures it won't slow down your handgun of choice.
Hydaway Collapsible Camp Bowl
Designs
Metolius, Yukon, Mojave, Cascadia
MSRP
$45
NOTES
Collapsible mess kits free up room in your pack and make it easy to enjoy outdoor cuisine. The Collapsible Camp Bowl set from HYDAWAY features a 1-quart bowl and 8-ounce cup, both with spill-resistant lids and matching insulating sleeves. Several sleeve styles are available to accessorize your preference of backdrop. Each container is made from thick silicone, heat resistant to very high temperatures, although exposing them to open flame should be avoided. The containers are easy to clean and perfect for anything from hot soup or coffee to your favorite snack or treat. HYDAWAY has found the right balance between rigidity and flexibility to ensure your container retains its shape when in use, but still collapses with minimal effort when it's ready to be put away.
Garmin Tread XL Overland Edition
Series
Base Edition, SxS Edition
MSRP
$1,500
URL
garmin.com
NOTES
This is not your run-of-the-mill, stick-it-to-your-windshield GPS. Instead, it's an over river, through the woods, up the mountain on purpose, adventure-having techno-marvel. The receiver is tuned to GLONASS and 10HZ-GNSS/GPS in the United States and South America, and GALILEO in Europe. Tread XL has a 10-inch screen, six-hour battery life, preloaded topo maps, and satellite imagery. It also comes preloaded with USFS Roads and Trails, including motor-vehicle-use-maps for motorcycle, ATV, SxS, and full-size 4×4. Take it off the trail and on to the highway with the full Garmin suite of navigation features. It has Wi-Fi and Bluetooth connectivity, weather notifications, and compatibility with Group Ride, Powerswitch, and In-Reach. The Tread also offers pitch and roll gauges, dog tracking, and SOS functions.
Zip Targets Zip Range Kit
Max Range
100 feet
MSRP
$149
NOTES
Living far from a range or not being able to justify the cost of a range membership can be a pain when you want to hone your marksmanship skills. The Zip Range Kit is a low-cost alternative to a fully established range, and fits easily in a small drawstring bag. Perfect for a location with a safe backdrop, the Zip Range can move targets between 0 and 100 feet. By using an uncomplicated system of pulleys, the target is moved via 550 paracord and a cordless drill attachment (user provides the drill). The target hanger can carry paper targets, hanging cans or bottles, clay discs, balloons, archery foam, and steel gun targets.
5COL Wire Saw, Flexible
Weight
< 1.0 ounce
MSRP
$20
URL
5col.com
NOTES
Manufactured for the U.S. Military, it's normally included in aviation survival kits for pilots who find themselves without wings. This wire saw is portable, concealable, and has a unique array of teeth not found on similar products. Weighing less than an ounce, this flexible saw straightens out to 16 inches long, making it ideal for survival, camp, or SERE applications. 5COL strongly recommends using a suitable, fresh tree limb to fashion a bow-saw for superior results. Others have taken advantage of the paracorded eyelets on the ends of the wire to fashion a makeshift frame saw, further increasing its versatility.
SUUNTO Core Watch
Colors
All Black, Black Red, Black Yellow TX, Brushed Steel, Regular Black
MSRP
$219
URL
suunto.com
NOTES
Sometimes a watch with endless features is unnecessary and only serves to burn battery life faster. Suunto's Core is a simple, yet versatile "ABC" (altimeter, barometer, compass) style watch with just enough features to help you make it back home. Multiple watch and date settings allow the user to switch easily between time zones or borders without the need to stop and readjust. People pursuing recreational, hunting, or duty endeavors will appreciate the sunrise/sunset tracker. The Core's compass feature is accurate to 5 degrees and offers declination adjustment. It can operate in conditions as low as -20 degrees C (-5 degrees F), as high as over 60 degrees C (140 degrees F), and will display underwater depth down to 10 meters. There's no Bluetooth or GPS connectivity, but for those in law enforcement or the military who may be concerned about signal discipline, having a high-tech timepiece that'll not give away your position could be a game changer.
G-Code Access EDC Tool
Grip Style
Full Loop, Half Loop
MSRP
$20
NOTES
Ever find yourself standing behind someone at a kiosk or check-out touch pad, only to realize the person in front of you is sneezing and wiping their drippy nose with their hand? If only there were a way to still use those public terminals without testing your immune system. G-Code has created the versatile Access EDC Tool for just such a purpose. The Access EDC is made with antimicrobial materials that prevent bacteria and other organisms from surviving on its surface, allowing the owner to press elevator buttons, touch screens, and many other digital keying devices without having to use the tip of a finger. Additionally, it's made from solid brass and is ergonomically designed to comfortably fit a hand in case self-defense is necessary. The Access EDC attaches easily to a lanyard, key chain, or ID badge holder, making it an easy addition to your EDC loadout.
---
Prepare Now:
Disclosure: These links are affiliate links. Caribou Media Group earns a commission from qualifying purchases. Thank you!
---
STAY SAFE: Download a Free copy of the OFFGRID Outbreak Issue
In issue 12, Offgrid Magazine took a hard look at what you should be aware of in the event of a viral outbreak. We're now offering a free digital copy of the OffGrid Outbreak issue when you subscribe to the OffGrid email newsletter. Sign up and get your free digital copy Click to Download!
---